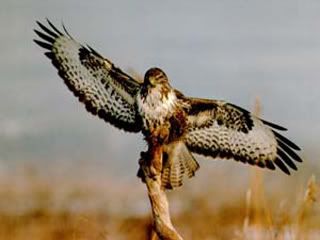 It's been a while since the boiler has seen any action
so I've decided to get a brew on over the next few days, I want to do an American Pale Ale with the Zeus hops I've had in the freezer for a few weeks now. From what I've read (thank-you Google/wiki) Zeus are:
American aromatic high-alpha hop with noticeable bitterness. Similar, if not identical, to Columbus/Tomahawk. (Alpha acid 15.0%)
the one's that I have are 12.8%AA I've heard that they are really 'smack you round the face citrus' too. I'm going to use them as bittering along side Perle (50/50 split on the IBU) and then use them for aroma also. I'll be fermenting with US-05 which has turned out really well in my SNPA clone. The name might seem a bit odd, but while I was out walking the dog, I watched a Buzzard for ages, it's the first one I've seen for a while, I love the light nights where you can get out and see a bit of your surroundings after a day at work!
25L Brewlength
Target OG 1.045
Target EBU ~35
BHE 75%
Grain
4560gm Pale Malt, Maris Otter 95%
170gm Crystal Malt - 60L Grain 3.5%
70gm Cara-Pils Grain 1.5%
Hops
14gm Zeus [12.80 %] (90 min) ~17.5 IBU
26gm Pearle [6.90 %] (90 min) ~17.5 IBU
30gm Zeus [12.80 %] (10 min) (Aroma Hop-Steep) Hops -
30gm Zeus [12.80 %] (0 min) (Aroma Hop-Steep) Hops -