A friend of mine reccomended that I try a recipe from a book by Marc Ollason (cheers Vossy), he's brewed it before and it sounds right up my street for this time of year. In Marcs book he describes this beer:
A very refreshing beer, the Fuggles give a good hop charachter while the Styrian Goldings give a superb aroma. The use of carapils ensures that this beer has a good body, slight residual sweetness, and a very pale colour.
I scaled the recipe up from 23 to 25 litres and adjusted for my 75% brewhouse efficiency and came up with this:
Target OG : 1.042 (75% bhe)
Brewlength : 25L
Target IBU : ~36IBU
Mash : 60 mins 65 degrees
Boil : 60 mins
4170gm Pale Malt Marris Otter 89%
520gm Cara-Pils Malt 11%
70gm Fuggles [5.50 %] (60 min) Hops 36.0 IBU
50gm Styrian Goldings [4.00 %] Added at 80 degrees and left for 15 mins
Whirlfloc at 10 mins
Fermenting with S04
Here are a few pics from the brew evening.
The grains weighed out and in a large bag, the thermometer is so that I can judge what strike temperature I'm going to need when I dough in.
The grains being added to the mash liquor in the tun, aka doughing in, I stopped stirring to take the pic!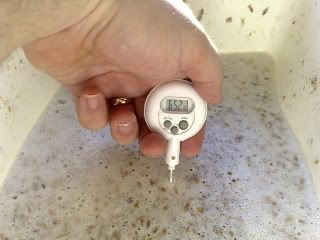 The initial temperature of the mash 65.2 degrees, quite happy with that.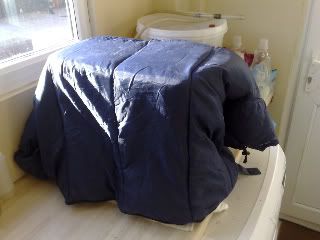 Tucked up nice and warm for an hour.
After a 60 min mash i'd only lost 0.2 of a degree, a quick test with a drop of videne on a sample of the first runnings confirmed full conversion.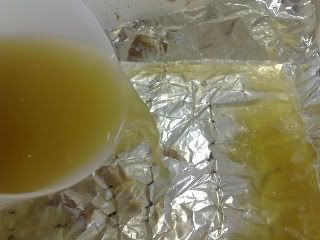 The first runnings being returned to the tun through some pierced tin foil so that I didn't disturb the grain bed.
70g Fuggles weighed out.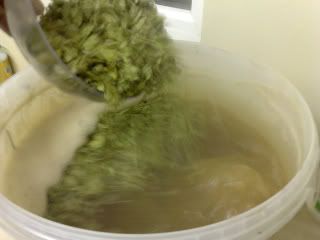 Fuggles being added to the boiler.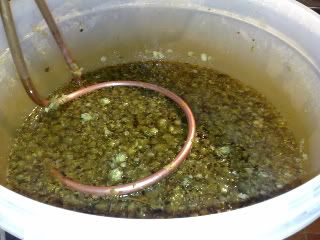 50g Styrians added once the wort had cooled to 80 degrees, steeped for 15 mins then the wort was cooled quickly.
I ended up with 25L of 1.040 wort, so a little off target OG but I'm not too dissapointed with that.
Looking forward to supping this one in a few weeks.