Well after not brewing for a while, I got stuck in today and did an all-grain brew, a kit brew and two wine kits.
The AG brew was Grumpy Bum, I altered my usual
recipe
to add in some
carapils
which should give the finished beer a bit of a better head and head retention, I also
went
back to using Oregon
Fuggles
rather than
Northdown
I preferred the taste from the
Fuggle
.
The Grain Bill & Hop Schedule was as follows :
4130gm Pale Malt (MO) 86.40%
410gm Crystal Malt 8.58%
240gm Cara-
Pils
5.02%
85gm Oregon
Fuggles
[4.70 %] (90 min) Hops 40.3
IBU
35.00 gm
Styrian
Goldings
[3.30 %] (15 min) Hops 5.4
IBU
I also mashed a little hotter this time,
targeted
68 degrees got 67.5 this is to try to give the brew a little more 'body' and
maltiness
, previously
I'd
mashed at 65 degrees and it may have left the beer a little 'thin'.
I also got my head around hot and cold breaks with
whirlfloc
today, boiling hard with both elements when the
whirlfloc
tablet went in at 10
mins
from the end then chilling right down to 20 degrees to get a good cold break, there was lots of
trub
left behind and the wort that I transferred to the
fermenter
was quite clear.
The mash and boil were both 90 minutes. This beer should be around 4.2% and 45
EBU's
and a nice deep golden colour. The
OG
of this beer is 1042. Fermented with
Gervin
English Ale Yeast.
The kit that I brewed was a
Brupaks
Almondbury
Old, not tried this one before but have read good things about it, I replaced the kit yeast with
Safale
S04.
I also started off 2 wine kits both California Connoisseur, Liebfraumilch and Cabernet Merlot, these only took 10
mins
each to do and produce great wine for about £1.50 per bottle.
This is a picture of the 'trub' that was left behind in the boiler, filtered out by the hop bed, I wonder if it is this that has been giving me chill haze problems with some brews?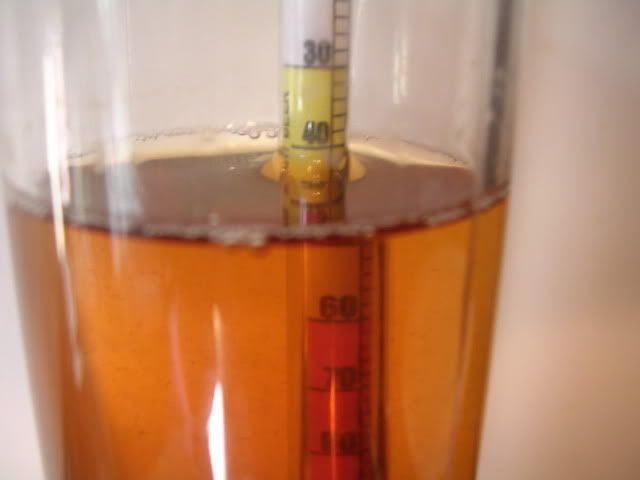 The wort that went into the fermenter was nice and clear.
The end result of the day, from left to right, Brupaks Almondbury Old kit, Grumpy Bum AG brew, Cabernet Merlot, Liebfraumilch.